Biography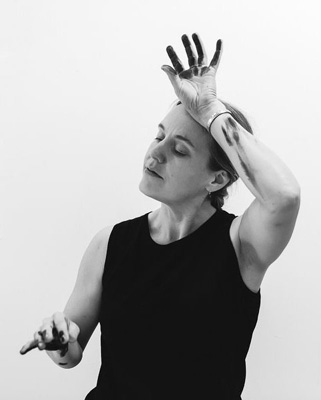 Heather Goodwind was born in Scranton, Pennsylvania in 1973, and grew up between Berkeley, California and Key West, Florida.
In 1996 she graduated from Portland State University with a BA in Sculpture and co-founded Gallery 214 in Portland's Old Town district.
In 1997 she moved to Brooklyn where she began sculpting with found materials. This was also the beginning of her small format drawings in books which now number over 600 works.
In 2003 she relocated to Buenos Aires, Argentina, where she was based until 2012. There she participated in the Palacio Mexico artists' cooperative from 2005-7.
During 2007-8 she spent 12 months in China and SE Asia, studying with local and traditional artists, as well as visiting the burgeoning movements in 798 and the artist villages outside of Beijing and Shanghai.
She lived from 2010-12 in the Argentine coastal town of Santa Teresita, producing her first series of larger format works on paper.
In 2012 she returned to Portland, Oregon where she continues to live with her Australian husband, their Argentine daughter, and a pair of backyard chickens.
Artist Statement
My drawings represent a constant outpouring of singular impressions: clearly isolated images that capture flashes of emotion, changes in perception or moments of recognition.
I give fleeting thoughts as much consideration as monumental ideas: nothing is more important than anything else and every small thing has its place. This gives the works a cumulative effect: the parts clarify the whole.
Solo Exhibitions
| | |
| --- | --- |
| 2017 | The Inner Landscape Asian Art Platform, Singapore, SGP |
| 2017 | Rock, Paper, Mirrors Basil Hallward Gallery, Portland, OR |
| 2016 | The Inner Landscape FireHouse Gallery, Grants Pass, OR |
| 2016 | Abstract Landscapes West Linn Library, West Linn, OR |
| 2014 | After Every Tempest Come Such Calms Portland Center Stage, Portland, OR |
| 2007 | Recent Works Instituto Municipal de Cerámica de Avellaneda, Buenos Aires, Argentina |
| 1997 | Pretty Gallery 214, Portland, Oregon |
Group Exhibitions
2017
Leland Iron Works Residency Show Pacific Northwest College of Art, Portland, OR - Upcoming: opening reception November 2nd, 5-8pm, exhibition closes November 22nd
2017
Affordable Art Fair Asian Art Platform, Singapore, SGP
2016
Line It Out - Formal Elements In Art Gretchen Schuette Art Gallery, Salem, OR
2015
Not Simply Here - Heather Goodwind and Renee Couture Betty Feves Memorial Gallery, Pendleton, OR
2015
New Work By Gallery Artists Portland Art Museum Rental Sales Gallery, Portland, OR
2015
Abstract Statements: Heather Goodwind, Bill Jehle and Christopher Conroe Juanita Salazar Lowe Art Gallery, Imperial, CA
2015
Heather Goodwind and Kendra Larson Lower Columbia College Art Gallery, Longview, WA
2014
New Artist Show Portland Art Museum Rental Sales Gallery, Portland, OR
2014
Seattle Erotic Art Festival Jurors Brom, Mollena Williams, Tracy Cilona, Mark Atwood and Heather Lanier, Seattle Center Exhibition Hall, Seattle, WA
2014
Tiny Vision Juror Shannon McBride, Lakewood Center for the Arts , Lake Oswego, OR
2014
Left Coast Annual Juried Exhibition Juror Jenny Gheith, Sanchez Art Center, Pacifica, CA
2014
Lilliputians March Juror Mark Ruschman, Purdue University Galleries, West Lafayette, IN
2014
Oregon Artist Showcase Juror Elizabeth Spavento, Chehalem Cultural Center, Newberg, OR
2013
28th Tallahassee International Juried Exhibition Museum of Fine Arts, Florida State University, Tallahassee, FL
2013
Less is More: Small Works in a Great Space Jurors Jack Rasmussen and Joann Moser, The Elizabeth Meyers Mitchell Gallery, Annapolis, MD
2013
24th Annual Juried Show Juror Erin Cosgrove, Contemporary Arts Center, Las Vegas, CA
2007
Presence Juror Ken Feingold, Center for Modern Psychological Studies, New York, NY
2001
DaVinci Days Corvallis Arts Center, Corvallis, OR
2000
Juried Drawing Show Corvallis Arts Center, Corvallis, OR
2000
Monoprints Open Show, Malca Fine Art, New York, NY
1996
Three Visions Gallery 214, Portland, OR
Honors